Why
Join

NWPD

Top Ten Reasons to Join NWPD                       Is NWPD right for you?                   Are you right for NWPD?
Top Ten Reasons to Join NWPD:
OPPORTUNITIES
Not only is each shift different from the last, but the opportunities to diversify job tasks are abundant. 10-15% of our members are in secondment roles and we have several specialty sections in the department. You will have opportunities to apply to secondment positions without relocating.
TRAINING & EQUIPMENT
Top of the line equipment and training is made available to you. The learning never stops in law enforcement. Because you'll be working in a diverse and changing environment, you'll be learning new tactics and techniques throughout your career.
LEADERSHIP
Open door policy is in effect at NWPD. Receive support and mentorship from our leadership team.
SUPPORT
Receive outstanding support from the Police Board, the City, and the community of New Westminster.
EXPOSURE
In a short amount of time you will gain a tremendous amount of valuable experience.
SECURITY
You will be hard pressed to find a career with as much job security as a police officer.
FAMILY
You are family, not a badge number, and you will make lifelong friends here.
NEW WESTMINSTER
Work in one of the fastest growing and diverse cities in the Lower Mainland.
SALARY
No probationary salary – you start at the 4th Class Constable rate. If you work overtime you get paid for it.
SERVICE
You get to keep people safe, serve the community, help people make better choices, and challenge yourself.
Is NWPD right for you?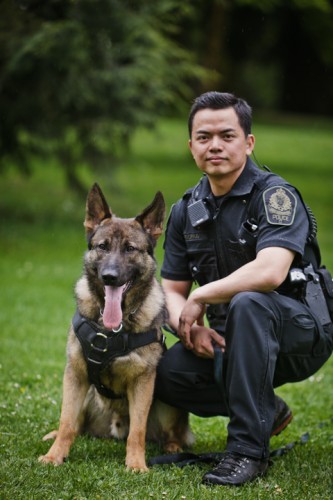 We're sure you've heard it before – it's a lifestyle, not just a career. This is true, and our bottom line is that we are looking for people who are committed to making a difference, not just "coming to work".
What is best for NWPD might not be what is best for you, or what is best for another agency. We strive for diversity and balance in our team. We recognize that we are fortunate to be in a position of quality versus quantity and it is imperative that we invest in the right people who are the right fit for NWPD.
Are you right for NWPD?
Our hiring process is collaborative and extensive. First, you will meet our recruiting team and as you proceed in the process, you will have the pleasure of meeting a number of professionals that we work with who will give us their perspective on you as a candidate. At each step of the process you are evaluated for compatibility with our team. We also expect you to bring your personality and strengths to the table. During the recruitment process it is your opportunity to assess us and determine if this is where you want to call home.
We are seeking candidates who possess superior skills and demonstrated performance in the following competency areas:
Conflict management
Decision making
Ethical accountability and responsibility
Planning and organization
Risk management
Stress tolerance
Teamwork
Communication skills
It is important that our police officers are in a position to provide the best possible service to the citizens of New Westminster and demonstrate the NWPD values. In turn, we will equip you with top notch training, diverse opportunities, a supportive environment, and dedicated leadership.
If you believe you are the right fit for NWPD, we encourage you to apply and welcome your application. Or if you have questions about our process and your application, contact Sergeant Jeff Scott in our Recruiting Section at jscott@nwpolice.org

Print This Page