Block Watch
What Is Block Watch?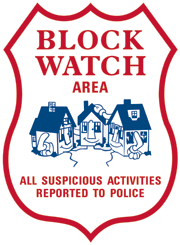 The Block Watch Program addresses the issues of isolation and separation that crime creates and feeds upon. It forges bonds among neighbours, helps reduce residential and other crimes, and improves relations between the police and the community they serve. Block Watch is one of the most comprehensive and successful home security and community safety program.
The program was started in BC in 1986 in response to the concerns of citizens about crime. The program was modeled on a similar project in Seattle, which was effective in reducing residential break-and-enters by up to 60 percent.
Watch the following video to learn more about Block Watch:
How Block Watch works
Block Watch is a free program based on a partnership between the New Westminster Police Department and its community members who work together to prevent crime in their neighbourhoods. Neighbours watch out for one another and their property and report suspicious activities to the Police. It is believed that neighbours working together are the first and best line of defence against crime.
Who can join Block Watch in New Westminster
Anyone living in any residential or strata property in New Westminster can become Block Watch members. Rental properties should contact the Coordinator of the Crime Free Multi-Housing Program.
The benefits of joining Block Watch
Information on how to recognize and report suspicious behaviour
Residential security assessment
Membership window and door decals – warns that property has been marked for identification
Free Block Watch street or building signs
Semi-annual newsletter
A possible reduction in home insurance
A safe neighbourhood and community
Requirements of becoming a Block Watch in New Westminster
Volunteer(s) to act as Captain and Co-Captain to coordinate the group
75 percent involvement by residents/tenants
Block map/contact list must be completed and a copy provided to the New Westminster Police Department Block Watch Coordinator each year
Communication system set up to keep participants informed of Block Watch news and alerts
Property marked by participants for identification
Block Watch meeting conducted by New West Police Department representative
Property identification
Marking your personal property is an integral component of the Block Watch Program. Property that has not been marked cannot be returned to its rightful owner if recovered. Here is what you need to know about marking your property:
Your property must be marked for identification purposes before you become a registered Block Watch Member.
The recognized method for marking your property is to engrave.
Use your BC Driver's License number or BC Identification number, but never your social insurance number.
Time required to start and maintain an effective Block Watch?
The initial organizing of your Block Watch group may require some time commitment; however, once your group is established there is only minimal time required to maintain membership participation.
How to join Block Watch and make a difference in New Westminster
Making a difference means getting involved and taking responsibility and ownership of your neighbourhood. Block Watch may reduce residential crime by up to 20 percent so be part of the solution by calling the New Westminster Police Block Watch office today at 604-529-2446 or email them here.
Safe Communities, One Block at a Time

Print This Page